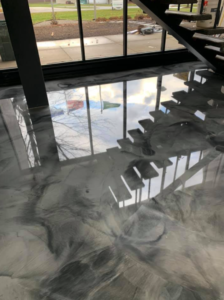 Remove stains as soon as possible
No matter what environment epoxy floors are in, things almost always get spilled on them. As we all know, it's part of human nature to spill. When people are working there are often liquid components they work with and that makes it likely for spilling to occur.  No matter if its engine oil, food, a beverage, or printer ink that's spilled. The sooner the mess is cleaned up the less likely it is to stain the epoxy floors. The good news is that cleaning up epoxy floors is super easy, even when battling a tough stain. Use a neutral PH cleaner to prevent a build up of film while cleaning, this should prevent and remove stains. By taking care of stains quickly your epoxy floors shine will last for years to come! Please consult our Progressive Painting and Coating professionals before attempting to clean up certain chemicals, to prevent a dangerous situation.  
Take action to prevent damage
Irregardless if your facility is a manufacturing facility, warehouse, or factory your floor may benefit from added protection from the harsh environment. For example if your facility welds, or carries heavy loads, your floors may benefit from placing a welding mat beneath a welding area or beneath heavy loads. This can prevent dents or other damage occurring on your floors.
Another way to prevent damage is to sweep daily with a soft bristle broom. This will help prevent a build up of grit and dirt on the floors that may scratch and shorten the lifespan of the floors. If you use an auto scrubber to clean your floors make sure to get a proper brush or pad to prevent damage to your coating. It is also crucial to keep sharp objects away from the floor and avoid dragging objects across the floor that may puncture it. Taking time to prevent damage to the floors will lengthen their lifespan. 
Schedule routine cleanings
Maintaining epoxy floors that look brand new and have a long lifespan involves regular cleaning. Fortunately epoxy floors are incredibly durable and easy to clean. Along with daily sweeping epoxy floors should be mopped at least weekly depending on the level of traffic on the floors. It is best practice to mop floors with a microfiber mop or a mechanized floor scrubber with soft bristles. Make sure to focus a lot of attention on high traffic areas to ensure your epoxy floors shine like new!
Make it shine
One of the best parts of epoxy floors is their shine because it adds so much brightness to the room!  By removing stains as soon as possible, taking action to prevent damage, having a routine cleaning schedule, and avoiding harsh cleaners like soap and citrus cleaners, your epoxy floors should have a beautiful shine and a long lifespan. On occasion after months of wear and tear that shine may begin to fade even with regular cleanings. Then it is the time to call in a team of professional epoxy floor cleaners that can bring life back to your floors!
Feel free to contact our professionals at Progressive Painting and Coatings for a free tour and recommendations for your flooring.