Antimicrobial Epoxy Floor Systems
We install antimicrobial epoxy floor systems that work beneath the surface of your floors and deep within the concrete substrate, preventing the growth of microorganisms within the floors themselves. 
Epoxy floor coating systems like these are USDA-approved for food processing areas and are Volatile Organic Compound (VOC) and Volatile Organic Substance (VOS) compliant. Our floor systems have antiseptic used in the product itself, which gives them the antimicrobial characteristics. They have a unique chemical makeup when compared to other epoxy floor systems. This is how they prevent growth of bacteria, mold, and mildew, on top of other benefits.
There are many uses for antimicrobial floor systems, but their use in health care, food processing, and gyms or locker room environments is popular due to the need to prevent any sort of microbial growth.
Antimicrobial Epoxy Flooring Benefits
There are many benefits to installing antimicrobial epoxy flooring systems, which hold true across many industries and facilities. These benefits include that antimicrobial epoxy flooring:
Permanently seals concrete flooring

Improves drying in wet environments

Improves thermal resistance

Improves chemical resistance

Lowers chemical reaction potential

Adds density to concrete floor installations

Stays effective after repeated washing, sanitation, and decontamination

Can be applied in any color or texture over concrete flooring

Prevents growth of bacteria, mold, and mildew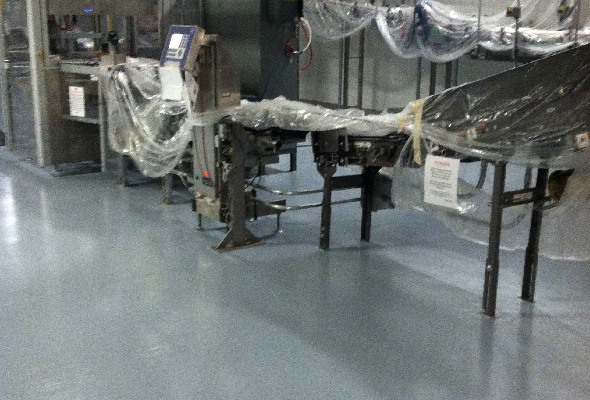 Industries & Spaces For Which We've Installed Epoxy Floors
Food and beverage processing
Cafeterias & Food Service
Laboratories & Surgical Centers
High-traffic corridors, walkways and restrooms
How are antimicrobial floor systems installed?
Antimicrobial floor systems are installed in the same manner our other epoxy floor finishes are – the product is just a different chemical makeup. It does take at least 24 hours to install – this accounts for the need for your facility or space to be shut down for the installation and aired out afterward. This is why so many customers opt to get flooring systems installed over the weekend or over a holiday season. We can install floors during your already established downtime, so you're not losing anything from your bottom line to get your ideal antimicrobial flooring system installed.
Things to Consider for Antimicrobial Floor Systems
Not only do our antimicrobial products provide fantastic benefits, but they are available in a variety of options designed to reflect your facility's needs. Your needs may dictate a certain finish or epoxy option. Maybe you need low-light reflection, a certain texture finish, or a finish design for multiple daily cleanings. Things to consider when choosing the best Antimicrobial floors for your business include:
Chemical Resistance
The type of chemical that will be in use are evaluated by our team. We match our flooring composition to the specific resistance needed, such as specific levels of acidity.
Level of Durability
Our floor systems are very durable. When cleaned and taken care of properly, they can last 5 to 15 years. We can provide more info on how to properly clean your flooring once your specific needs are communicated and your flooring is chosen. With improper cleaning, dirt and debris can become a film on the flooring, which will decrease efficacy and durability. Using mats or floor coverings on our flooring systems do not make them any less durable or effective.
Impact Resistance
The environment is evaluated to determine the level of impact resistance that is needed. Industries where floors face heavy impact daily, such as die-cast manufacturing shops, will need a stronger floor.
Frequency of Hot and Cold Shower Washdowns
We need to know how often the floors are showered down with hot or cold water, as well as other causes of rapid temperature spikes. If a cold concrete floor comes into contact with a hot product, it could cause the floor to crack under normal circumstances. Our antimicrobial epoxy flooring also prevents damage to the underlying floor material.
Why Choose PBS Painting for Anti-Microbial Flooring?
We've served facilities across the Midwest for 30+ years. We've worked with more than 10,000 satisfied customers, whether they are commercial, industrial, or residential projects. Our quality of work is among the highest in the industry. That is why we're a leading provider of painting and coating services in the industry. Our staff is trained in our services, safety measures, and are given the tools they need to please our customers and install our antimicrobial floor coverings correctly the first time. No matter your industry, if antimicrobial floro systems are right for you, we're the right team to provide you with the results you need.