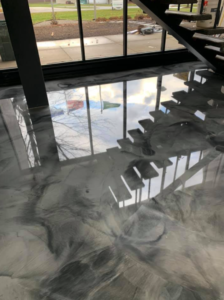 Offices are often known for having a bland nature with old carpets and minimal creative decor. But an office space that feels like a good environment for employees, can actually increase employee loyalty and satisfaction. This means it is important to create an office space that makes your employees feel productive and creative.  Epoxy flooring in an office can help transform the space.
One thing employees often complain about is that the office space feels too dark and gloomy. Epoxy floors can have a high gloss finish that can increase the brightness in a building significantly. Increasing the brightness in the office can create an environment that feels more bright and open to employees and customers. 
Epoxy flooring in a office also makes floors more durable which can give them a long lifespan. Epoxy can stretch your floor's lifespan to up to 20 years. Adding longevity to your floors is a quality investment that pays for itself when your concrete is protected. Not only will it be protected but it can also become an art piece too! 
To spruce up the space and add creativity to the room choose from an array of decorative floor options including:
Flooring Designs (ideal for designated areas within your facility) 
Employees of Progressive Painting and Coatings are well-versed in applying systems that add decorative floor coatings to your concrete surface. These types of floor systems not only look great but add durability and longevity to your surface. Decorative floor systems work very well in retail venues, corporate offices, plant aisle ways, etc.
Our staff is committed to giving your floors the "WOW" factor, which can lead to impressed customers, increased sales, and higher employee morale. Click here to get a quote from us today!